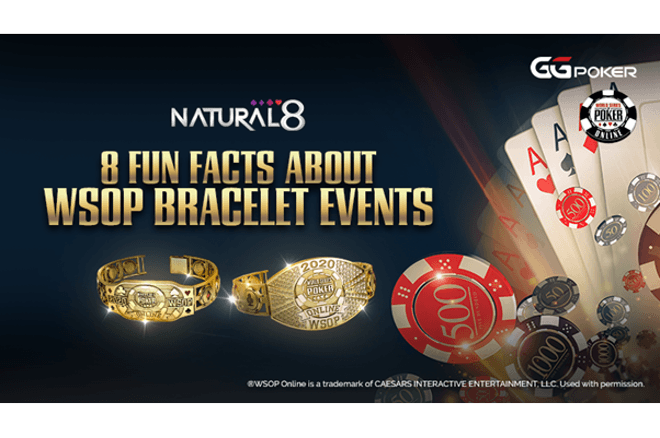 With the 2020 WSOP Online fast approaching, it's time to get in the mood for the biggest and most prestigious poker festival of them all – this time, being held online on Natural8 and across the GGPoker Network.
Here are eight fun facts about World Series of Poker bracelet events!
Check out the 2020 WSOP Online Schedule
The Most Affordable WSOP Bracelet Event
The lowest buy-in available for a bracelet event used to be give or take, $500. In 2017 there was a $333 buy-in WSOP.com online event and in 2019, the $400 buy-in Colossus.
This time around, it's about to get blown out of the sky. The WSOP 2020 Online will feature a $50 buy-in (No, that's not missing a zero) in Event #40: BIG 50, $1M GTD. With the extra savings, you can now also participate in Event #1: $100 The Opener, $2M GTD and Event #53: $100 WSOP MILLION$, $2M GTD.
Wondering What WSOP Online Events to Play?
We've come up with this handy guide that allows you to build your WSOP Online schedule!
Click Here
54 Bracelet Events to Play
Even though the WSOP started in 1970, it wasn't until 1976 that the WSOP started issuing bracelets to the event winner. Prior to that, winners would receive a silver cup, some sort of trophy and in 1975, a sterling plate.
The WSOP 2020 Online will feature a grand total of 85 Bracelet events, 54 of which are available on Natural8 and the entire GGPoker Network.
8 PLO & 2 Short Deck Bracelet Events Available
The Pot-Limit Omaha (PLO) variant was introduced at the WSOP in 1984 while Short Deck Hold'em (6+) only made its debut last year. Since then, these variants have gained popularity and there are a variety of cash games and tournaments in PLO and Short Deck on Natural8.
The WSOP 2020 Online will feature a total of 8 PLO and 2 Short Deck bracelet events:
21st July: #4: $5,000 Pot Limit Omaha Championship
23rd July: #6: $1,050 Bounty Pot Limit Omaha
26th July: #9: $2,500 Pot Limit Omaha
28th July: #12: $10,000 Short Deck No Limit Hold'em Championship
2nd August: #16: $1,000 Short Deck No Limit Hold'em
5th August: #20: $400 Pot Limit Omaha
8th August: #22: $800 Double Stack Pot Limit Omaha
16th August: #31: $1,500 Pot Limit Omaha
19th August: #35: $800 Pot Limit Omaha
27th August: #43: $1,500 Pot Limit Omaha
The Ladies who Paved the Way
Although many women have won a bracelet in the ladies only events, Starla Brodie was the first woman to win a WSOP bracelet in an open event back in 1979. In Event #4: $600 Mixed Doubles Seven Card Stud, she and her team mate, poker legend Doyle Brunson, managed to secure the win in a field of 25 entries.
---
---
It was Vera Richmond who was the first woman to win a regular open event at the WSOP when she won Event #11: $1,000 Limit A-5 Draw Lowball in 1982. It was her one and only WSOP Bracelet but she inspired and paved the way for more female poker players to follow in her footsteps.
To this date, no woman has won the WSOP Main Event but in 1995, Barbara Enright (pictured) became the first woman (and still is the only one) to reach the final table at a WSOP Main Event. She eventually finished 5th for a prize of $114,180.
The Birth and Beauty of Satellites
Satellites were first introduced into the WSOP in 1983, which was also the same year Tom McEvoy became the first Main Event winner to have qualified via satellite.
Players can expect many opportunities to get in on the action at the WSOP 2020 Online by taking advantage of the Steps and Satellites available. Buy-ins start from as low as $1 and they're already available to play on Natural8.
The WSOP 2020 Online also features the WSOP Silk Road, a series of micro-stakes tournaments which allows players to win tickets to bracelet events at a fraction of the price. Buy-ins range from $1.08 up to $21.60.
Age is Just a Number
There is a whopping 63 years between the youngest and oldest bracelet winners. In 1988, Johnny Moss received a sweet birthday present when he won a bracelet in Event #8: $1,500 Limit Seven Card Stud at the age of 81. He continued to play in every WSOP up until 1995, which put him at 88 years of age.
The same year Johnny Moss won the bracelet, Annette Obrestad came into the world. She went on to win the bracelet in 2007 at Event #3: WSOP Europe Main Event – £10,000 No-Limit Texas Hold'em, becoming the youngest player to ever win a bracelet at the age of 18. She was just one day shy of turning 19.
Double Record Holder for Highest Earnings
Professional poker player and former professional magician, Antonio "The Magician" Esfandiari, holds the record for the highest career earnings at the WSOP at $22,365,691. He also holds the record for the highest earnings from a single event which was the $1m buy-in Event #55: The Big One for One Drop for $18,346,673 back in 2012.
The WSOP Main Event
The first WSOP Main Event in 1970 had only 7 participants and Johnny Moss was crowned winner without having to win a tournament; he was elected "best all around player" by his peers. Throughout the 80's, participation in the main event saw a rise to 178 players and by the late 90's, there were close to 400 participants taking part with a prize pool of about $4 million.
2006 saw the largest WSOP Main Event with 8,773 entries, a buy-in priced at $10,000, and a prize pool of an eye-watering $82,512,162. Since then, no WSOP Main Event has topped the number of entries seen in 2006, although 2019 came close with 8,569 entries, a buy-in of $10,000 and $80,548,600 in prizes.
With the shift from a live event to an online one, will be able to see records broken?
The next WSOP Main Event will be held on 30th August 2020 with $25,000,000 GTD and a $5,000 buy-in. Players on Natural8 will be able to participate in a variety of Steps, Satellites, as well as other side events and promotions to win a ticket to the Main Event.
Not only will the winner of the Main Event receive the prestigious WSOP Main Event bracelet and a cash prize, Natural8 will be giving out an additional $100,000 in sponsorships to the winner with the Natural8 Winner's Circle promotion. This promotion is exclusive to players playing on Natural8 and any player who manages to score a WSOP bracelet will be rewarded.
The WSOP 2020 Online begins on Natural8 and GGPoker Network on 19th July – 6th September. Satellites and side events are already underway so don't miss out on this amazing opportunity to participate! Download the WSOP 2020 Online Schedule and start planning now.
Sponsor-generated content by Natural8