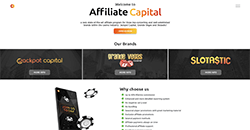 Three established online casino brands, all powered by Realtime Gaming, are merging their affiliate programs into one new one. Affiliate programs for Jackpot Capital Casino, Grande Vegas Casino and Slotastic will now be managed by the new Affiliate Capital. The group has developed new, enhanced software that will provide affiliates with a more detailed reporting system and dynamic tracking.
Login and registration starts working on November, 4th. Existing affiliates are required to use the e-mail address, they have used for registration. The password needs to be reset before first login.
Affiliate Capital has developed its own affiliate platform. The full-featured system will provide reports and marketing materials for all three brands. Tony and Brian, who have been managing the affiliate programs for these brands until now, will be joined by Viktoria.
"Having just one login and one commission payment for all three brands is going to really streamline operations for Jackpot Capital, Grande Vegas and Slotastic affiliates," said Viktoria.
"Affiliates can take advantage of the synergy effects in promoting all three brands," noted Brian. "There will be no bundling, though. Commissions will continue to be calculated separately for each brand."
"We'd love to be launching this new venture with a big party in London or Malta," added Tony. "We'll have to postpone that kind of celebration for now, but we definitely look forward to raising a glass or two with our partners when the time is right."
Current affiliates of Jackpot Capital, Grande Vegas and Slotastic have been asked to download all reports currently saved in the former affiliate platform and to prepare to update their tracking links as the new ones become available.