That's it from us today at Markets Live. Thanks for reading along, and for dropping us a comment if you got the chance.
Alex Druce will return in the morning.
Get our wrap of the day on the markets, breaking business news and expert opinion delivered to your inbox each afternoon. Sign up for The Sydney Morning Herald's here and The Age's here.
Cromwell has received a second strike against its remuneration report at the annual general meeting in Brisbane this afternoon.
The Singapore-based ARA Asset Management, led by chairman Gary Weiss, has spilled the board with the support of the Tang family and gained control.
Dr Weiss is a new director on the Cromwell board and has been agitating for change over a number of years.
ARA owns about 28 per cent of the Cromwell register and is buying shares under the takeover creep regulations.
The NSW Supreme Court of Appeal has found pandemic exclusions on business interruption policies are not valid because they rely on an outdated definition of "quarantinable disease".
The landmark decision will likely be appealed by insurers but indicates thousands of small to medium businesses may be able to claim for income lost due to COVID-19 lockdowns.
"There are thousands of small to medium and some large businesses who have got business interruption insurance," said John Berril, director of Berril & Watsons law firm.
"This is a win for business owners."
Australia's stock market closed at a new nine-month high on Wednesday as bank regulators hinted at easing restrictions dividend payouts and the global rotation from high growth to value stocks continued.
The gains came despite South Australia entering a harsh lockdown to stop the spread of COVID-19, which is currently killing 10,000 people a day worldwide.
The S&P/ASX 200 gained 0.5 per cent, or 33 points, to close at 6531.1 points. This was the first time it has closed above 6500 high since 27 February. The financial sector outperformed with a gain of 1.7 per cent taking the sector to an eight-week high.
The gains came after the head of the Australian Prudential Regulation Authority said it was time to reconsider a cap on bank dividend payouts that currently prevents banks paying more than 50 per cent of earnings to shareholders.
The information technology sector declined for the third day in a row, down 0.7 per cent. Previously one of the best performing sectors since the March lows, information technology has been stuck in a trading range for four weeks.
Some market commentators noted a continuation of the 'great rotation' from high growth stocks to sectors that would well during the post-pandemic recovery.
However, global cross asset specialist for Fidelity international, Anthony Doyle, said he expects the ultra-low interest rate environment to support high growth sectors, such as technology, for some time to come.
"You want to see a reversal of easy monetary policy, question marks over lock downs, and longer term questions starting to be resolved before you could say this is the inflection point," he said.
The recent sell-off in technology stocks for industrial and value stocks both in Australia and overseas seems "more tactical than structural", he said.
Among the big four banks Commonwealth Bank gained 2.9 per cent to $77.55, the highest closing price since 3 March. Westpac gained 2.3 per cent to $19.45, NAB gained 2.1 per cent to $22.29, and ANZ gained 1.3 per cent to $22.01.
Gambling giant Aristocrat Leisure gained 3.8 per cent $34.59 after a better than expected full year result.
The materials sector dragged with BHP falling 0.5 per cent to $36.83, Rio Tinto down 0.7 per cent to $98.12, and Oz Minerals down 3.6 per cent to $14.84. Dairy firm a2 Milk declined 4.8 per cent to $13.98.
The boss of ASX-listed maltster United Malt says the craft brewing sector has defied fears that a significant proportion of independent brewers could be forced out of business by the coronavirus, adding that the Australian industry was about to rebound thanks to the easing of restrictions and arrival of summer.
Mark Palmquist said craft brewers had increased home delivery of drink sales, boosted take-away sales and increased pack sizes, and these measures had helped them regain a significant share of the sales lost earlier this year when the coronavirus pandemic first caused the widespread closure of licensed venues.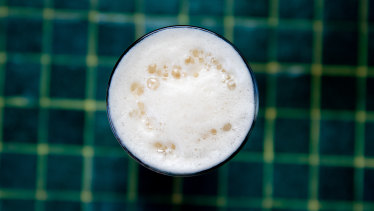 "We think a lot of the craft guys are going to be able to survive, but for them to actually get back to good strong profitability, we're going to have to see a big change in that on-premise consumption," he said.
"They're clawing their way back into it, but they're still operating at a lower level, but they're certainly in a better position today than they were just four or five months ago," he said.
In June Mr Palmquist told The Age and the Herald that a survey of North American micro brewers found that more than 30 per cent said they would not be able to survive a shutdown of more than three months, and that similar fears were held in Australia.
At-home alcohol consumption has increased during lockdowns in Australia, but Mr Palmquist said this was not enough to compensate for the loss of beer sales at licensed venues.
United Malt buys barley and processes it to create malt, a key ingredient in beer. The ASX-listed agribusiness was spun out of ASX-listed GrainCorp earlier this year, and has operations in Australia and overseas.
Mr Palmquist was speaking after United Malt recorded 2019-20 financial year results which beat market expectations on a range of measures, and surprised with an unfranked final dividend of 3.9 cents per share. The company's financial year ends on September 30.
United Malt's full year revenue was down 2 per cent to $1.3 billion, while its statutory net profit fell 19.9 per cent to $45.6 million.
Mr Palmquist said he was "pretty pleased" with the results, given the huge disruption caused by COVID-19, particularly around March and April when restrictions closed venues across the world.
The venue closures reduced demand for beer, and particularly hurt micro brewers who often also operate licensed venues. Micro brewers buy specialty malts which deliver higher margins to United Malt.
Morgans analyst Belinda Moore said the result looked like "a big beat on the surface versus consensus", but was complicated by the demerger of United Malt earlier this year from GrainCorp, and the restating of the previous year's numbers.
"The good thing is the balance sheet is in a strong shape, especially post the recent capital raising and they surprised on the upside with a small final dividend which is good and a sign of confidence. And a good thing is that their volumes are improving," she said.
United Malt closed up 3 per cent at $4.74.
The Australian sharemarket finished ahead for the third straight session, adding 0.5 per cent to close at 6531.1 – its highest since February 27.
Support came from the financials, Wesfarmers, Transurban, CSL and Woolworths. The major miners were a drag, as was Telstra, Macquarie Group, and Afterpay.
The biggest movers today were:
The NSW gambling regulator has blocked Crown Resorts from opening its new $2.2 billion Sydney casino next month until a review of its licence is completed in February.
The chair of Independent Liquor and Gaming Authority Philip Crawford said the regulator was "not comfortable" with Crown opening its gaming operations until the Bergin Inquiry had been completed.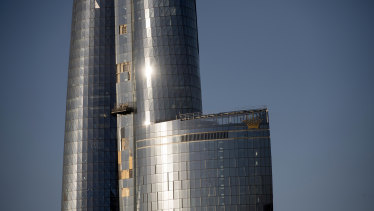 Crown intended to open its casino at Barangaroo in the middle of December, but ILGA held an emergency meeting on Wednesday in light of the serious evidence the inquiry has uncovered.
Mr Crawford said it was disappointing that Crown did not take it upon themselves to delay the opening. "They are not picking up the vibe," Mr Crawford said.
The decision on Wednesday came after Crown's legal team conceded to the Bergin Inquiry that criminals likely used two of its bank accounts to launder dirty cash.
Crown's lawyers had previously urged Commissioner Patricia Bergin against finding that its bank accounts had, more probably than not, been used for money laundering despite being riddled with suspicious transactions.
However the NSW Independent Liquor and Gaming Authority inquiry heard on Wednesday morning that Crown tendered new statements at 11pm on Tuesday which outline a major about-face, based on two reviews of the accounts by consultancies Initialism and Grant Thornton.
Full story here
National Australia Bank has closed its branches across Australia due to a "physical security threat".
In a statement on Wednesday afternoon, the bank said: "Unfortunately, we have had to close our branches temporarily due to a physical security threat."
"As always the safety and security of our customers and colleagues is our priority.
"We are working closely with police and will provide an update as soon as we can.
It later added: "Digital banking services including internet and mobile banking, as well as telephone banking, remain available to customers as normal."
The lender said it was working with the Australian Federal Police on the matter.
A caller to 2GB radio said he was at a branch in Sydney's south-west when a manager had "abruptly booted" them out of the bank.
The man, named Luke, said customers were not told why they had to leave.
"I was on the pavement and [the bank manager] said 'you have to leave the area'," he said. "The staff came out and walked up the street."
At the North Sydney NAB branch, "This is not a drill please evacuate the building and head to the evacuation point" could be heard.
No further details about the threats have been provided.
Adelaide casino operator SkyCity says the government's six-day coronavirus lockdown has forced it to push back the opening of a $330 million luxury hotel expansion.
South Australian Premier Steven Marshall this afternoon announced a statewide lockdown would come into effect from midnight tonight in order to get on top of a growing COVID-19 cluster in Adelaide.
Regional travel and outdoor exercise will be banned, and face masks will be mandatory in public under a raft of tough new measures that include the closure of schools, universities, pubs, cafes, and food courts.
Chief Health Officer Nicola Spurrier said the Parafield cluster at the centre of the state's outbreak had now grown to 22 cases with two new infections added to the total.
SkyCity was due to open its $330 million expansion development later this month but said this would now be pushed back to an unspecified date. The project includes the 120-room luxury hotel Eos.
SkyCity Adelaide facilities will close at midnight.
The company's New Zealand facilities remain open. Shares in the firm were last 1 per cent lower at $2.86 against a 0.5 per cent rise for the wider market.
Iron ore exports from Port Hedland are up 10 per cent in October compared to the same month in 2019, according to analysis by UBS of Pilbara Port Authority data.
Exports from the 'big four' – BHP, Rio Tinto, Roy Hill, and Fortescue – are up 4.5 per cent year to date, with Roy Hill shipments double what they were in 2019, but slightly lower than September.
Rio's shipments in October were 28.9 megatonnes (Mt), up 1.4 per cent from September and 9 per cent on October 2019. Rio has said it expects to ship between 324Mt and 334Mt of ore in 2020. It is on track to reach about 331Mt, according to UBS analysts.
Similarly, BHP shipped about 23.8 Mt in October, slightly lower than UBS estimates. It has full-year guidance of production between 276Mt and 286Mt.
"Fortescue Metals Group shipped 15.8Mt in October, up 3 per cent month on month (annualised) and up 3 per cent year on year with a run rate of about 186Mt per annum,'' UBS's team noted.
"This compared to our initial estimate of 16Mt. Full year 2020-21 guidance is for 175-180Mt, which compared to 2019-20 shipments of 178Mt."