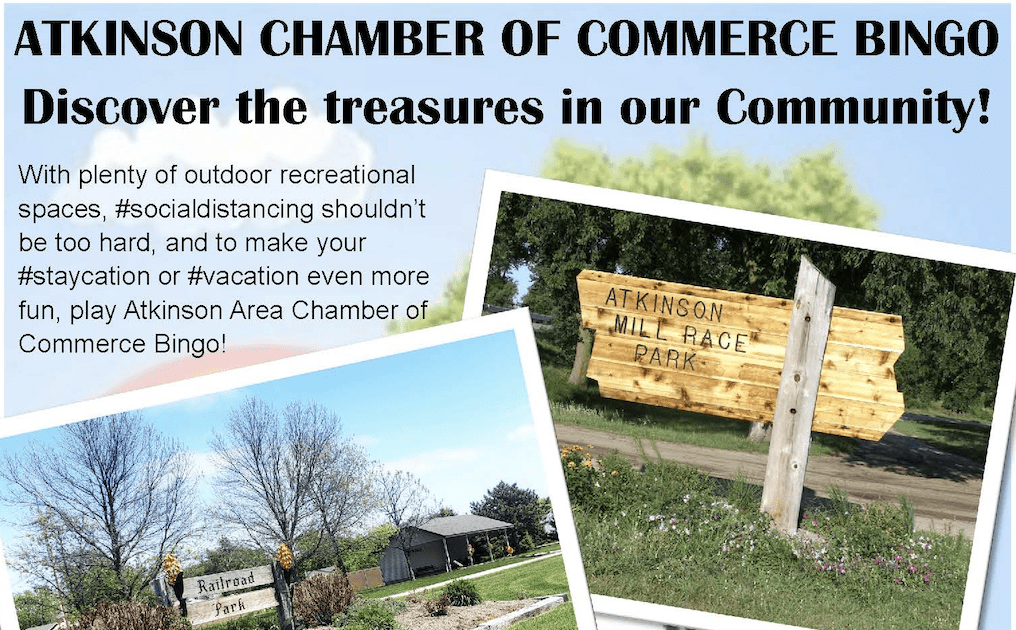 With plenty of outdoor recreational options, #socialdistancing should not be too hard. To make your summer even more fun, play the Atkinson Area Chamber of Commerce Bingo.
New Bingo cards will be released on the Atkinson Area Chamber of Commerce website and Facebook at the beginning of July and August. Each card will expire at the end of the month. Entries must be completed by then in order to be eligible for prizes.
Once a new card has been released, take a photo of yourself completing at least four actions in a row (horizontal or vertical) and post them on Facebook with the hashtag #AtkinsonNEBingo. For every four-in-a-row completed, the participant will earn one entry into that month's prize drawing. A full card is worth eight entries.
At the end of each month that you play, send your name, address, email and social media handle for the account you posted your photos to [email protected] Monthly prizes: 10 winners each month will receive an Atkinson Area Chamber of Commerce T-shirt. (Limited to one winner per household.)
All participants also will be eligible for the grand prize drawing of $100 in Atkinson Bucks on Sept. 1.
Printed Bingo cards are available at the Atkinson Area Chamber of Commerce located within the City of Atkinson offices. Photos may be emailed to the above email address, if participants do not have social media.
For more information, contact Amanda Sindelar at the Atkinson Area Chamber of Commerce at 402-925-5313 or [email protected]
Links to Bingo Card & Flyer:
Click here for a full flyer of information!
Click here for the bingo card link!