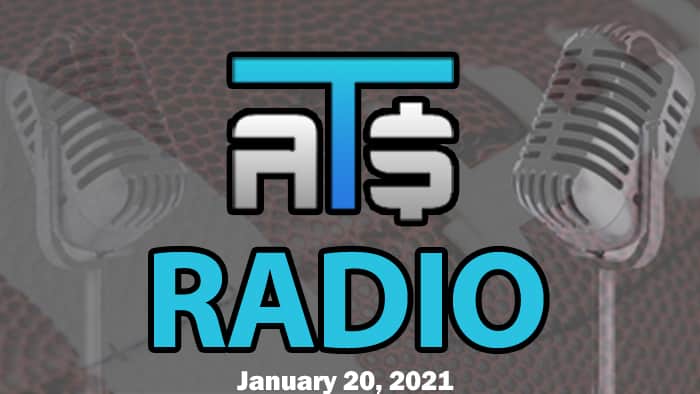 Host Adam Burke welcomed back Kiev O'Neil from The Oddsbreakers for his second foray into the ATS Radio waters. The guys spent time talking about the Conference Championship Round in the NFL Playoffs on Sunday with Bucs vs. Packers and Bills vs. Chiefs before chatting about college basketball with a focus on the Big Ten.
We've got a lot of focuses here at ATS.io, as we cover sports and the sports betting industry from a lot of different angles. Keep it locked in right here for all kinds of updates and all sorts of sports betting coverage or download the ATS App, where you can find all of the article content from the site and also use the handicapping tools like a Bet Tracker and a stats database to give yourself an even greater chance of being a winning sports bettor.
Football and basketball were the primary focuses on today's edition of ATS Radio. Host Adam Burke welcomed back Kiev O'Neil from The Oddsbreakers to chat about the NFC Championship Game and the AFC Championship Game. The guys gave their thoughts on Buccaneers vs. Packers and Bills vs. Chiefs on both side and total, but Kiev also added some player props analysis based on the matchups and how the games could play out.
On the college basketball side, Adam and Kiev talked about conference specialization and the importance of narrowing your focus for a variety of different reasons. Whether you have time constraints or just want to attempt to beat the market and get closing line value, focusing on certain conferences is a great idea. In that same spirit, the guys talked about the Big Ten, with some interesting trends in conference play and then thoughts on Rutgers vs. Penn State, Indiana vs. Iowa, and Michigan vs. Purdue.
Join us on Thursday when we chat NFL Playoffs with Brad Powers.
We're on Spotify, iHeartRadio,and Google Podcasts! Be sure to follow and never miss a show. You can easily stream right through the app or on your computer.
The best way to get all of our shows is right here at ATS.io, where you can listen right in the recap article. You can also subscribe to us on iTunes and get all of our podcasts downloaded instantly to your mobile device or computer. You can also find us on Spreaker, where we upload all of our individual radio show segments, as well as Soundcloud. Search "ATS Radio" to find us on TuneIn, Podbean, Overcast, and Stitcher and let us know if we're not on your favorite podcast app so we can get there as well.
Follow host Adam Burke on Twitter (@SkatingTripods) to know exactly when the shows have been posted or you can simply subscribe to any of the feeds above.