NFL
The Giants and Football Team try to maintain pace in the NFC East
By Bryan Zarpentine – Nov 4, 2020, 4:17am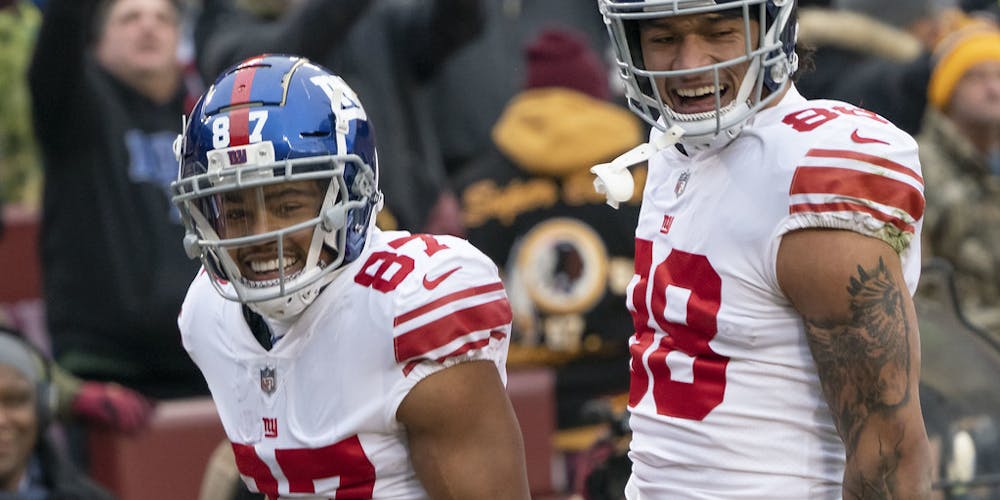 Quick-Hitters
Just one game out of first place in the NFC East, the Washington Football Team (+440) has the second-best chance to win the NFC East, per FanDuel Sportsbook. Washington games have hit the under in three-straight.
Despite being 1-7, the New York Giants have covered the spread in four of their last five games.
Get all of BetQL's best bets for the upcoming NFL season! Dating back a full calendar year, our five-star (max-value) bets have won 61% of the time!

The Climbing Football Team
Don't look now, but the Washington Football Team is in second place in the NFC East. Last time out, Ron Rivera's team made a statement with a 25-3 win over the Dallas Cowboys. At the moment, Washington is just one game behind the Philadelphia Eagles. They're also about to play four-straight games against teams with a losing record, so the opportunity is there for Washington to make their move.
Washington (+440) has the second-best chance to win the NFC East, per FanDuel Sportsbook.
At least for the moment, Washington appears to have an answer at quarterback with Kyle Allen. He completed 15-of-25 passes against the Cowboys for 194 yards and two touchdowns. It was by no means a spectacular performance from Allen, but it got the job done. The real star of that game was Antonio Gibson, who carried the ball 20 times for 128 yards. Granted, that kind of production on the ground has been the exception rather than the rule this season. If it continues, Allen should be in a better position to lead a somewhat competent Washington offense.
Defensively, things are also looking up for the Football Team. During a 20-19 loss to the New York Giants last month, Washington's biggest problem was containing Daniel Jones. Other than that, they did a fine job against the New York offense. There's no reason to get too excited, but against subpar offensive teams, the Washington defense is capable of holding their own.
Washington games have hit the under in three-straight.
If you want to roster any Giants or Redskins players in your DFS lineups tonight, be sure to get a 3-day free trial on RotoQL to check out our projections!

Giants Cover, But Come Up Short
The frustration is clearly mounting for first-year coach Joe Judge after another close loss on Monday night. The G-men were a two-point conversion away from forcing overtime against the Tampa Bay Buccaneers, but failed to convert on a controversial call. In their last four games, the Giants have one win and three losses that have come by a total of six points. They've become the masters of close losses and need to start turning those into wins, which is far from impossible with their next three games coming against losing teams.
The inconsistency of Jones continues. The quarterback is able to use his legs to pick up yards on the ground, or improvise and create something out of nothing. However, he still struggles to make simple throws and good decisions. He's thrown more interceptions than touchdowns this season, including four picks over the last three games. Of course, the New York offensive line and running game isn't doing him any favors, as Jones has been the team's leading rusher in two of the last three games. He's also been sacked 23 times in eight games, which isn't helping his cause.
On the other side of the ball, the Giants have been less dreadful than you would think for a team that's 1-7. They've allowed more than 26 points in 2-of-8 games this year. It's good enough to keep them in games and give the offense a chance. The Giants have also held five of their last six opponents to less than 100 yards rushing, which is a good indicator that the New York defense is holding up in the trenches and doing its part to put the team in a position to win.
The Giants have covered in four of their last five contets.

Projected Low-Scorer
This game is likely to come down to which one of the subpar quarterbacks can perform better. Neither team has an impressive rushing attack, although neither is terrible defensively. Ultimately, it'll be up to Jones and Allen to avoid mistakes and make big throws in key spots during what should be a close, low-scoring game.