The New Jersey sports betting and online gambling industries were the driving force behind the state's $338 million gaming revenue haul in October. According to the New Jersey Division of Gaming Enforcement's latest revenue reports, the state's gaming industry produced a 15% year-over-year increase in revenue. It did so despite casinos operating under restrictive COVID-19 policies.
In October, sports betting, online casino, and online poker combined for $152 million, an astonishing 45% of all gaming revenue. That bears repeating, online gambling is nearing 50% of all gaming revenue in New Jersey.
That would make sense if the aforementioned COVID-19 restrictions were significantly impacting land-based casino revenue, but retail casino revenue was only off 9.9% year-over-year for the month.
The gains online gambling made during the lockdown earlier this year have been sticky, even with land-based casinos reopening and generating about 90% of their previous gaming revenue. If that trend continues, other states would be wise to take notice.
Topline Numbers for Online Gambling and Sports Betting
Sports betting numbers hit an all-time high in October, as the two-year-old industry has rebounded nicely following the COVID-19 shutdown of professional sports earlier this year.
New Jersey sports bettors wagered $803.2 million on the sports betting front at the state's licensed sportsbooks in October, up more than $50 million from September's record-setting tally of $748.6 million. That resulted in revenue of $58.5 million for the state's sports betting operators. Most of that was generated through mobile sports betting apps.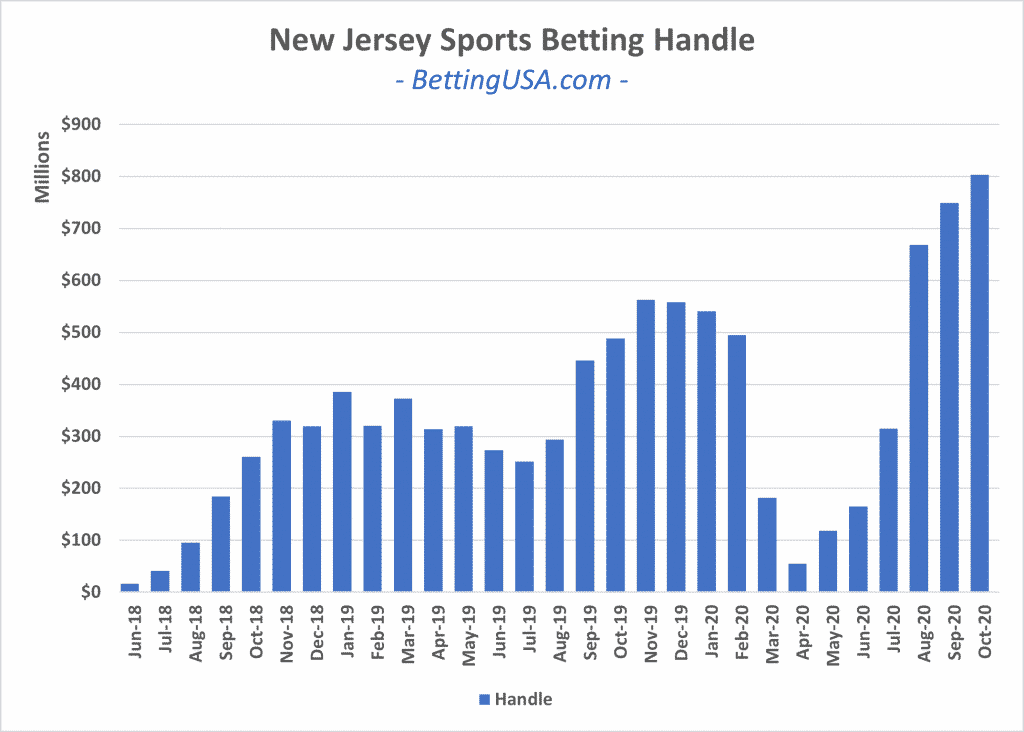 Online casino had an even better month. As the state's seventh online gambling anniversary approaches, New Jersey online casinos are still setting records, with no indication that the ceiling is anywhere in sight.
Revenue at New Jersey online poker rooms and casinos tallied $93,451,523 in October. Online casino games accounted for $90.9 million of that total, with poker chipping in just $2.5 million.
To put that number in perspective, not including online poker, New Jersey online casinos generated $93.8 million in 2014 (the industry's first full year). The industry nearly eclipsed that amount in October.
Three Things to Watch
Golden Nugget has Company at the Top
Before sports betting made an appearance on the New Jersey Shore, the state's online casinos fell into two categories, Golden Nugget and everyone else. Online sports betting has changed that dynamic.
Cross-sell between the products has reshaped the online casino industry in New Jersey.
As the chart below shows, Golden Nugget generated nearly twice as much online gambling revenue as its nearest competitor in July 2018.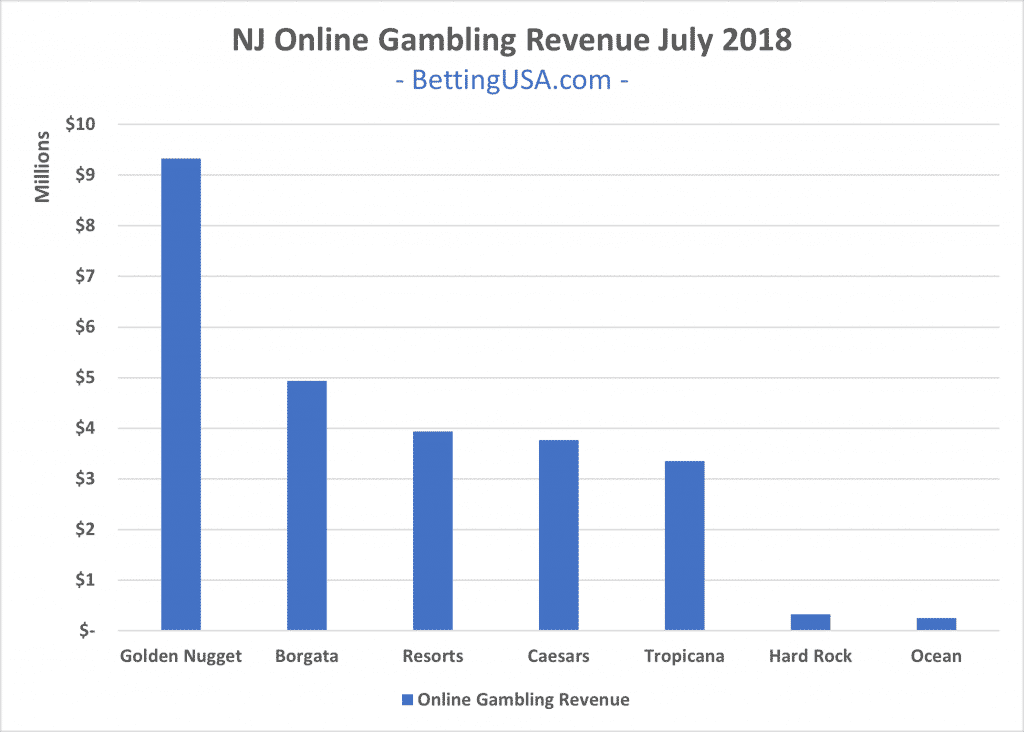 And here is how that same chart looks in October 2020.
COVID-19 Worsens as Winter Approaches
Across the country, casinos have been forced to pause or rollback their reopening plans as COVID-19 cases surge. It's unlikely the New Jersey casino industry will escape unscathed.
The Garden State's case count swelled to over 4,500 on Sunday, with the state's seven-day average now at 3,500 new cases, according to the New York Times. That's a number New Jersey hadn't seen since the devastating first-wave of the pandemic back in March-April, and represents more than a ten-fold increase compared to the Summer, when the state began reopening businesses, including casinos.
The trend doesn't bode well for Atlantic City casinos. Gov. Phil Murphy put a new round of restrictions impacting casinos in place earlier this month, and the rising case count and positivity rate signals even more restrictions are coming.
Ocean Is Good at Sports and Bad at Online Casino
Sports betting has been very good for the state's online casinos. Revisit the charts above, and you'll notice that a single operator was generating more than $5 million monthly in July 2018. Fast forward to October 2020, and six of the seven online operators can make that claim.
And then there's Ocean Casino and its meager $678,101. For whatever reason, the company's online casino hasn't resonated among New Jersey's online gambling population. That is surprising, considering it ranks third in sports betting revenue among the nine Atlantic City casinos.