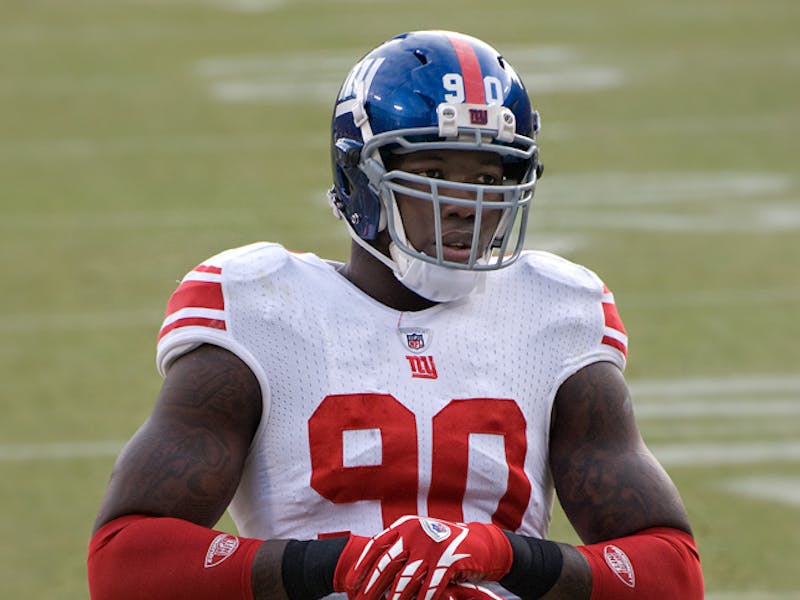 CHIP ON HIS SHOULDER
"I'm happy to play Daniel Jones. Eli's not there no more, so I won't have to pick him up and say, 'Eli, man, you good?' I'm coming for their necks, man, they know that, and Jason Pierre-Paul ain't going nowhere. I'm going to Monday Night Football and going to destroy the Giants. That's what I want to do as an individual, but I still have love for them," he told reporters this week, per NFL.com.
Pierre-Paul has recorded 5.5 sacks, 21 tackles and three forced fumbles in his resurgent 2020 campaign. After battling injuries in recent seasons, the athletic pass-rusher has a chip on his shoulder.
"I finally get to play them this year, I'm fully healed and I'm ready to go," he said. "I'm trying to see what I can do. I already know what I'm going to do, but I want to see what I can do."
The Giants have allowed 20 sacks in seven games, which ranks in the bottom quarter of the league.
To make matters worse, New York's starting left guard Will Hernandez tested positive for COVID-19 this week and will miss this game, thrusting rookie Shane Lemieux into action against a ferocious front seven that also includes Ndamukong Suh, Lavonte David, Shaquil Barrett and Devin White.
THIS ONE'S PERSONAL
Pierre-Paul looks fully healthy and wants to remind his old team that they made a mistake trading him back in 2018.
"You already know they made a mistake," he said. "… It's not that I'm trying to show them they made a mistake; it's just the fact that I know that I wasn't washed up or finished up. So, this [Monday], I have to show them, you know? It's my old team, and we've got to show them the new Tampa Bay Buccaneers."
Giants quarterback Daniel Jones struggles when opposing defenses get pressure on him and has simply not taken care of the ball since he began starting for New York early last season.
If Pierre-Paul and his teammates can get consistent pressure on the young quarterback, this one could be very, very ugly for the home team.
But, are the Bucs the best bet as a -13 road favorite? Our model is listing a ⭐⭐⭐⭐⭐ spread bet in this game. CLICK THIS to see it now!