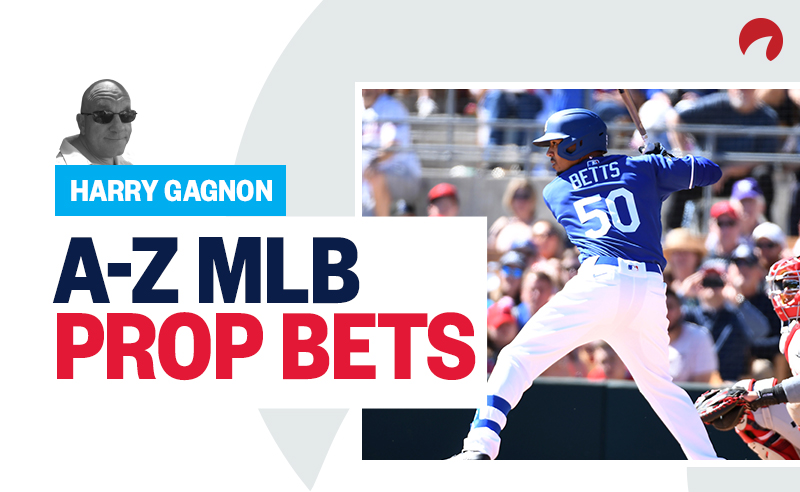 With the Major League Baseball season FINALLY upon us (July 23), my pals at Odds Shark and I are going prop bet crazy and instead of me coming up with my best plays for the shortened 60-game season, we went outside the box with a prop bet for every letter of the alphabet. That's right, over the next week, I'll have 26 total MLB props for you to cash in on once we hear "play ball" again.
See Odds Shark's Best MLB Sites
I'll be giving out my expert analysis on props ranging from letters A-M this week and then N-Z next week. Everyone will have all 26 props before the season starts when the defending World Series champion Washington Nationals take on the New York Yankees in the opening game.
If you are a bit confused, well, I have faith in you because if you are reading this, you are more than likely a sports gambler and you will get "the picture" or in this case get "the pitcher." Get it?!!!
New to betting on baseball? Take a look at our MLB betting guide to help you get in on the action.
Alphabetical Props for MLB Regular Season
A = Royals: (A)dalberto Mondesi, Most Stolen Bases in AL +125
This kid had 43 stolen bases last season in just 102 games played. Mondesi also had the most total bases among Kansas City players who played in 105 games or less. That equals so many more opportunities to swipe a base.
B = Yankees: (B)rett Gardner, UNDER 23 RBIs -110
Gardner will turn 37 in August and has missed a total of 43 games over the past two campaigns. He has also struck out over 100 times in seven straight seasons. Though there will be ducks on the pond to bring in, I'm not sure he's going to be the one bringing them home.
C = Yankees: Aroldis (C)hapman, UNDER 12.5 Saves -115
Chapman just tested positive for COVID-19 and is currently recovering. He was active last season, pitching 57 innings, his most since 2015 when he was a member of the Cincinnati Reds. Another factor that makes that 12.5 number seem high is that the Yankees can always go to former Orioles closer Zack Britton if they want to rest Chapman.
D = Mets: Edwin (D)iaz, OVER 12.5 Saves -120
After a tough first season for Diaz with New York last year (2-7, 5.59 ERA), the Mets and I are both hoping that he returns to his 2018 form, when he had 57 saves and a 1.96 ERA for the Seattle Mariners.
E = Nationals: Adam (E)aton, OVER .286 Batting Avg -115
Eaton hit only .279 last year but hit .284 or better in the previous five seasons, including a career-high .301 for the Nats just two seasons ago.
F = Reds: (F)reddy Galvis, OVER 5.5 Home Runs -115
Galvis had 23 total home runs last year between the Blue Jays and Reds. He has had four straight double-digit home run seasons and 2019 was his best since 2016 when he popped 20 with the Phillies. This Reds team will be dangerous and will put up plenty of runs.
G = Yankees: (G)errit Cole, Most Wins in AL +225
Cole might be the most dominant and durable pitcher in the league. Over the last three seasons, he has started 33, 32 and 33 games, and over the past two campaigns, he has a combined record of 35-10 with 602 strikeouts. Plus, Cole will have the benefit of a very potent offense that will back him with plenty of offensive support.
H = Most (H)ome Runs by a Player, UNDER 20.5 +120
Playing a 60-game season and then going straight into the playoffs, managers will have to think about their star players' off days more than they ever had to in the past. To preserve players' health, managers may take them out of the game if the team is winning late in the game and therefore take away at-bats. Also, to have this prop go OVER, a player will have to average a home run every three games. I feel like that percentage is just too high.
I = Reds: Raisel (I)glesias, OVER 10.5 Saves -115
Iglesias has improved his number of saves season after season. In 2017, he had 28, in '18, he reached 30, and last year he had a career-high 34 saves. In all three of those years, he pitched 63 or more innings. In five seasons, opponents have managed only a .218 batting average against him.
J = Orioles: (J)ohn Means, OVER 5 Wins +105
We all know that the Baltimore Orioles were beyond awful a season ago with just 54 wins. The Orioles had the second-worst run differential in baseball at -252, ahead of only the Detroit Tigers at -333. On such a putrid team, this lefty still found a way to lead the team with 12 wins (three more than anyone else). I'm banking that John "means" business on the hill for the O's.
K = Dodgers: (K)enley Jansen, UNDER 12.5 Saves -115
Jansen turns 33 this season and is coming off a 2019 campaign in which he had a career-high 3.71 ERA. Jansen also had the most blown saves in his career last year with eight (previous high was seven in 2012).
L = Indians: Francisco (L)indor, OVER 12 Home Runs -115
Through 10 spring training games, this talented kid is hitting .400 after 30 at-bats with three dingers, 10 RBIs and 24 total bases. Lindor is just 26 years old and has combined for 103 homers over his last three seasons.
M = Dodgers: (M)ookie Betts, OVER .301 Batting Avg -115
It won't take this guy long to figure out the pitchers in the National League. If you go by Betts' batting average pattern, the OVER is the play. Through his past four seasons, he has hit .318, .264, .346 (his 2018 MVP season) and .295 for the Red Sox. So, if we go by that alone, it's his turn to bat over .300 again.
---
Well, there you have the first half of Harry's Alphabetical Prop Shop. Please make sure to get the second round of my best major league baseball props at the beginning of the week.