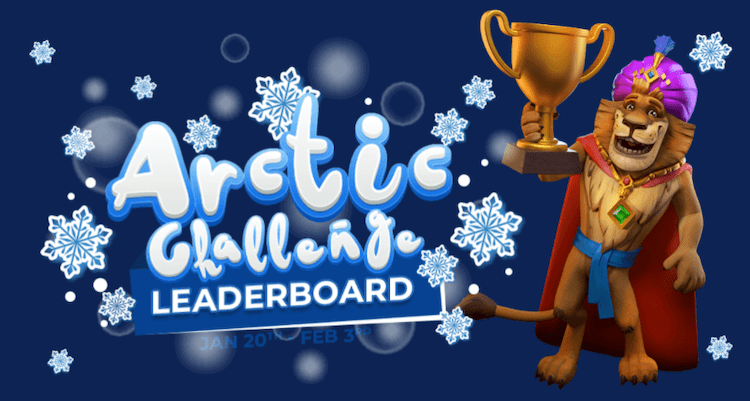 Let JungleRaja Warm You Up with the Arctic Challenge Prizes
Are you feeling as chilly as we do this winter? Thankfully, we haven't had any Arctic blasts so far, unless you count the one available at JungleRaja casino.
The popular Indian online casino is hosting a new promotion designed for Indian fans where you can win massive rewards!
Named Arctic Challenge Leaderboard, the tournament runs from 20th January to 3rd February. It is available to all players, with rewards that will warm you up this winter.
The rules are simple: Play any of JungleRaja's games and wager more than other players to climb the leaderboard and win rewards.
You'll get a prize for every 0.5 Lakh leaderboard points, so keep playing and reap the cool rewards.
As Simple as it Gets
There are no special requirements for the tournament, and no selected games. Anything goes with the Arctic Challenge Tournament!
JungleRaja is known as a very generous casino. It is constantly looking to reward its players in one way or another.
Be it a bonus or a tournament, the casino always has something in store! You'll earn plenty of extra cash and play more casino games that you originally intended.
The Arctic Challenge Tournament is already well underway, with only a short time to go before it wraps up, but you still have a chance to top the leaderboard.
Before you start playing, you will need to opt in. Find the tournament in the promotions section and click join. This will put your name on the leaderboard with no points in the beginning.
The next step is to deposit and play. The more you wager, the higher up the leaderboard you'll climb.
When Will the Prizes be Paid?
All of the prizes will be issued at the end of the promotion on February 3, 11:30 PM.
Any players that use unfair practices during the tournament will be suspended and their IP address banned.
Regarding everything else, all other JungleRaja terms and conditions apply.
Relevant news