This weekend, two primary entry points into Macau, the Gongbei border and the Hong Kong-Zhuhai-Macau Bridge (HZMB), began operating under normal hours – a good sign that things are finally starting to stabilize for the casino city after the coronavirus pandemic. While travel restrictions weren't lifted in conjunction with the return of the operating hours, this is expected to happen very soon, as health officials in Macau announced that it will have new border policies in place in just a few days. Given that casino traffic has remained virtually nonexistent, any change in the restrictions will be welcome.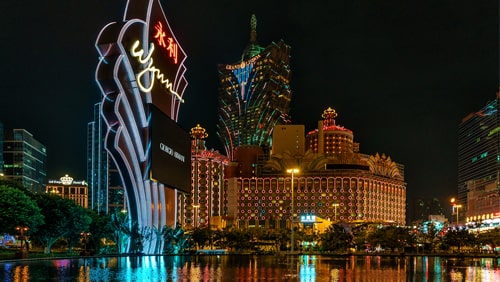 This past January, the Gongbei border gate and the HZMB reduced their hours of operation in response to the growing threat of COVID-19. As of yesterday, though, the border gate now runs from 6 AM to 1 AM, and the HZMB's passenger building is open from 8 AM to 10 PM. Travel restrictions that remain in place in mainland China, though, will continue to keep the number of arrivals at a minimum.
For now, anyone passing through a Macau border into the city will be questioned about their more recent travels and health situation. They will need to be given a clean bill of health to enter the city, and anyone who shows signs of illness – fever, acute cough, etc. – could be denied entry. These individuals might be allowed to enter; however, they will need to submit to certain health protocols. Some travelers – those who appear to have signs of the coronavirus specifically – will be denied entry. Given that Macau has not seen a new coronavirus case in 25 days, the city isn't going to take any chances.
The changes couldn't come at a better time for Macau. Gross gaming revenue (GGR) across the entire first quarter of the year was nowhere close to what anyone had anticipated, and the second quarter hasn't gotten off to a good start, either. The city gaming authority has released the latest figures for April, showing that GGR was down 96.8% last month compared to April 2019. Across the first four months of the year, total GGR has shrunk by 68.7% year-on-year.
However, despite the massive drop, analysts are beginning to show more optimism for Macau's recovery. Kenneth Fong, an analyst for Credit Suisse, asserted in a report from last Friday, "Looking ahead, we believe VIP should see a faster recovery. We estimate the pent-up demand will help the VIP business to recover to 50% once borders reopen and likely reach 100% of the pre-virus level in summer time [sic]. On the other hand, mass recovery is likely to be more gradual. We expect mass GGR to back to around 70% to 80% by summer holidays as China may reopen IVS [Individual Visit Scheme] visa in phases, and 90% to 100% by [the] end of the year."