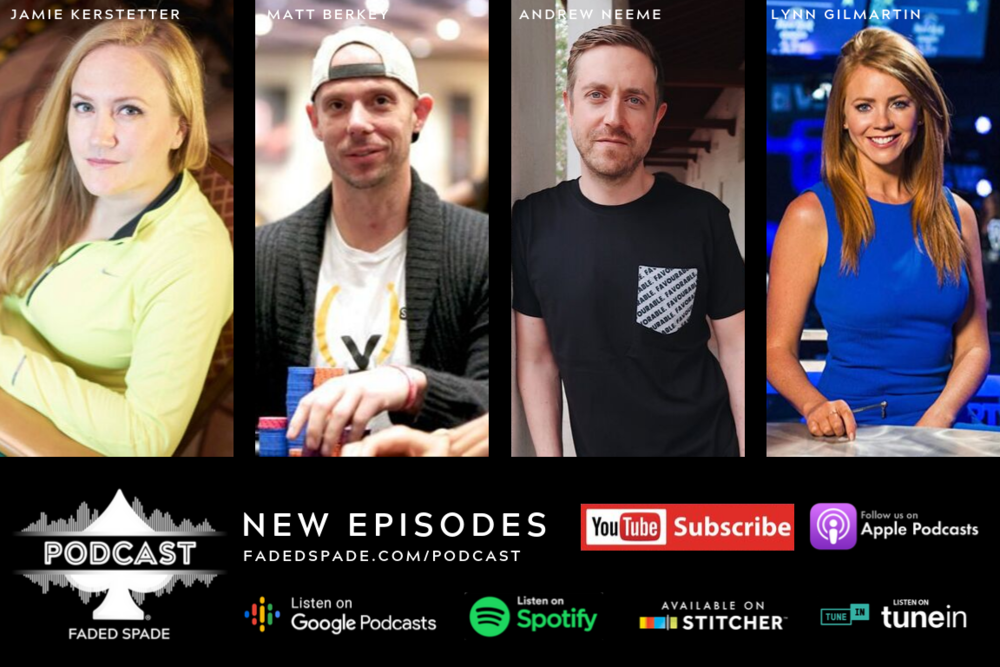 We're excited to hear that viewers and listeners of the new Faded Spade Podcast have enjoyed the entrepreneurial journeys of their favorite poker and entertainment people. Check out the untold stories of our first fantastic four guests – Jamie Kerstetter, Matt Berkey, Andrew Neeme, and Lynn Gilmartin!
You can watch videos on our brand new YouTube page and audio versions are now on our Apple Podcast, Google Podcast, Spotify, Stitcher, TuneIn channels and more. Be sure to Subscribe (free) to be notified when new Faded Spade Cards Podcast are released.
The Faded Spade Cards Podcast features entrepreneurial and business interviews that share the untold story of influencers across the poker and sports entertainment industries. The stories are powerful and you'll also hear tremendous advice from those who are achieving success toward their life's vision.
Hosts Tom Wheaton, Founder and CEO of Faded Spade, and Sean McCormack, Director of Poker, will also lead entertaining, engaging and educational segments on a wide variety of topics for a diverse audience of background and beliefs.
Subscribe to our new YouTube channel for video versions! Code PODCAST also gives you 15% off at FadedSpade.com.