The New Jersey sports betting and online casino industries closed out 2020 with their best month to date.
Online casino revenue reached a new all-time high of $99.5 million in December. That tally has the state flirting with $100 million months heading into 2021, which is astounding considering the industry generated $123 million in all of 2014.
On the sports betting front, New Jersey operators generated $66.4 million in revenue from $996.3 million in wagers in December 2020.
All the above numbers are state records, which New Jersey seems to set every month.
The complete December revenue report is available on the New Jersey Division of Gaming Enforcement website.
2020 Online Gambling and Sports Betting at a Glance
COVID-19 decimated land-based revenue (more on that in a moment), but New Jersey posted some remarkable online gambling numbers in 2020.
Here are the year-to-date totals and year-over-year increases:
Total online gambling revenue: $970,337,571 (+101%)
Gross internet gambling tax: $145,746,121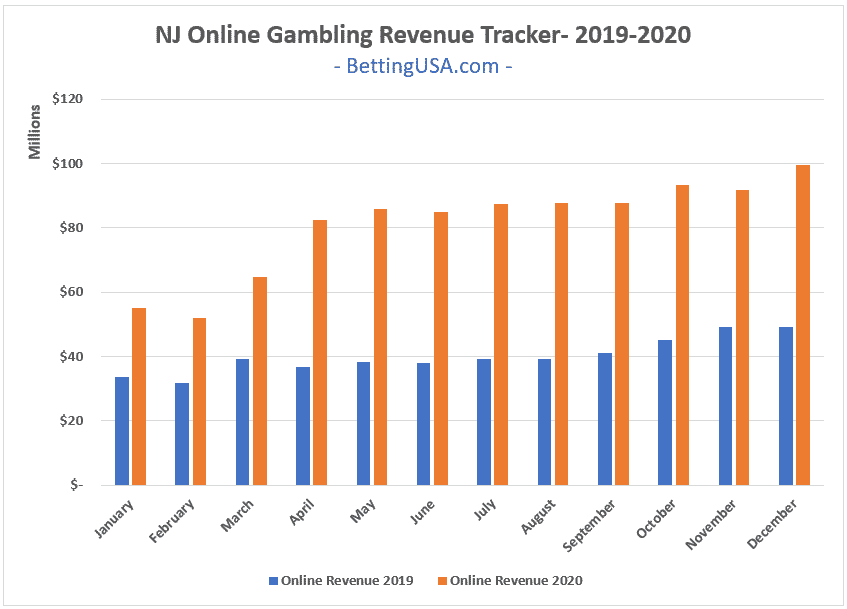 Despite the loss of professional sports in the Spring, New Jersey increased sports betting revenue from $299.4 million in 2019 to $398.5 million in 2020. That's a 33.1% Y/Y increase. The state collected $50 million in tax revenue from retail and online sportsbooks.
2020 handle eclipsed $6 billion in the Garden State. Handle is steadily rising in New Jersey (ignoring the months with COVID-19 sports shutdowns), but based on seasonality, you can expect another, less pronounced valley in April, following the Super Bowl and March Madness.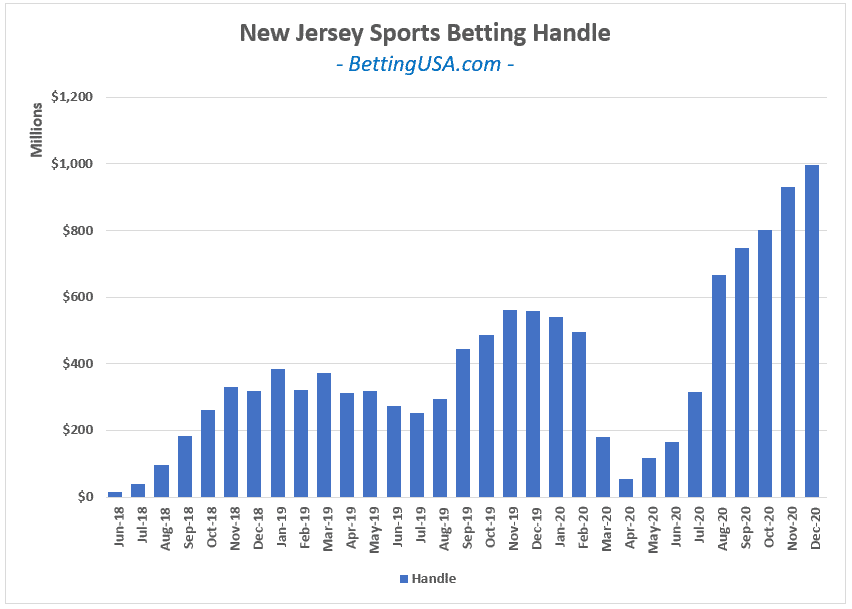 That means we won't get many good Y/Y comps until the start of the 2021 NFL season.
What About Land-Based Casino Revenue?
2020 wasn't kind to land-based casinos across the globe, and New Jersey was certainly hard-hit.
Land-based casino revenue plunged 43.7%, from $2.7 billion in 2019 to $1.5 billion in 2020.
However, the increases on the online side of the ledger (which nearly equaled the state's land-based casino revenue) acted like a tourniquet and helped stop the bleeding. The Y/Y online gambling and sports betting gains resulted in total gaming revenue of $2.9 billion, which is just 16.9% off last year's $3.5 billion tally.
To put online gambling growth into perspective, here's how online casino revenue compared to the state's land-based casino revenue in 2020.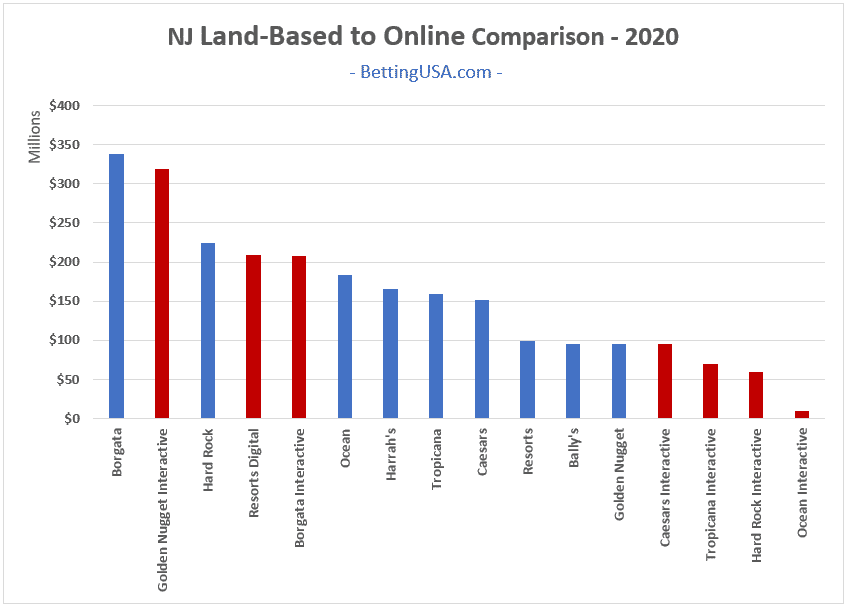 Looking Forward to 2021
2021 is going to be an interesting year for New Jersey's gambling industry.
Hopefully, the rollout of COVID vaccines will bring about a return to normalcy before the Summer months (Atlantic City's busy season). But the big unanswered questions are:
How much of the 2020 online gains are from COVID-19 lockdowns and consumer caution? And,
How sticky will those gains be when casinos are operating at standard capacity with a full suite of amenities?
The continued growth of online casino revenue in the now-seven-year-old market has caught many people by surprise. There was a COVID factor at play in 2020, but even pre-pandemic, the industry was in a period of sustained growth. However, that growth isn't sustainable, and there's a very good chance that online casino revenues suffer through their first monthly year-over-year declines in 2020.
Sports betting is still relatively new in the Garden State, so the growth is less surprising and more likely to continue in 2021. That said, there's one factor that could derail the industry: New York passing an online sports betting bill.
Estimates vary, but upwards of a quarter of New Jersey's sports betting handle is believed to be coming from New Yorkers making the quick trip across the Hudson River to place sports bets.
There's still a lot of details that need to be worked out, but if New York is serious about mobile sports betting and acts in the Spring, there's a good chance that the industry would be up and running in short order, thereby removing New Yorkers from New Jersey's sports betting market.