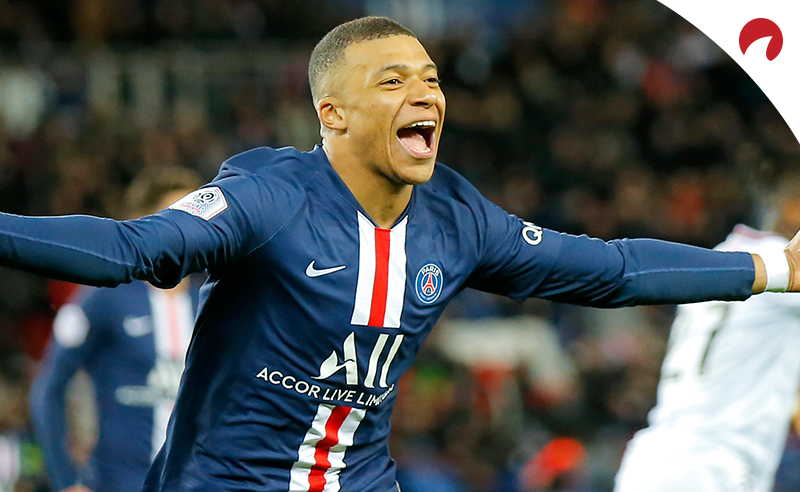 Paris Saint-Germain has won the French title seven times in the last eight years, with Monaco's triumph in the 2016-17 season the only anomaly in that pattern. With PSG back on top of Ligue 1 after 10 games, will Thomas Tuchel's side cruise to victory or could there still be some surprises to come in the next 28 games?
It's time to take another look at the Ligue 1 winner odds, with teams such as Lille and Rennes in hot pursuit of the reigning champions. Let's see how each team's price is currently shaping up via Bovada.
Here's how the current odds are looking from the best soccer betting sites and their futures market for Ligue 1:
Odds To Win The 2020-21 Ligue 1 Championship

| Team | Odds |
| --- | --- |
| Paris Saint-Germain | -2000 |
| Lyon | +2500 |
| Lille | +3300 |
| Marseille | +3300 |
| Rennes | +4000 |
| Monaco | +6600 |
| Montpellier | +8000 |
| Nice | +8000 |
| Lens | +50000 |
| Angers | +75000 |
| Bordeaux | +100000 |
| Nantes | +100000 |
| St. Etienne | +100000 |
| Stade Reims | +100000 |
| Metz | +200000 |
| Racing Strasburg | +250000 |
| Brest | +300000 |
| Lorient | +300000 |
| Dijon | +400000 |
| Nimes | +400000 |
Odds as of November 16 at Bovada
Can Anyone Stop PSG?
With the current Ligue 1 winner odds showing an obvious favoritism toward Paris Saint-Germain (-2000), there isn't currently much value in backing a team now firing on all cylinders with Neymar and Mbappe up front.
Who could have the best chance to catch Paris? Well, second-placed Lille (+3300) can make a strong claim for that, with six-goal Burak Yilmaz chasing the Golden Boot in fine form. Lille has only conceded seven goals in 10 games and has just one loss, which is one less than the current leaders.
Having won their last two games, Lille must not be discounted, and while taking their Ligue 1 winner odds might be to cash out when they shorten, that's not a bad plan if they can keep their current form up.
Second in the betting is Lyon (+2500), and while they currently languish in fifth place, outside the Champions League places, their three wins and two draws in their five most recent games are at least encouraging. With both Lyon and Lille facing easier opposition this weekend in Angers and Lorient, if either side wins and PSG drops points at Monaco, the race might well be back on again, at least for a time.
The Champions League Chase
We'd back both Lyon and Lille to make the Champions League places, but who might join them? While Rennes (+4000) lost the formidable goalkeeping prowess of Edouard Mendy to Chelsea in a summer raid, they look to have plenty of fight left in their attacking players. While their goal difference after 10 games is well below that of Lille and PSG, who occupy the top two places, they have only lost twice and have scored 18 goals, a total only bettered by the reigning champions.
Elsewhere in the Ligue 1 winner odds, Marseille (+3300) sits in fourth place in Ligue 1, having lost just one game. While they have only scored 12 goals, they have kept tight as a backline and if they win their game in hand on the three sides above them, they would sit just three points behind PSG, a side that they have already beaten once this season in Ligue 1.
Battling the Drop
After 10 games, Dijon (+400000 in Ligue 1 betting odds) still hasn't won a single game, and while they are not yet adrift, that is only due to the struggles of other sides. Dijon has hardly been mustard up front, scoring a paltry five goals, half the total of Racing Strasburg (+250000) and Nimes (+400000), the two sides above them in the relegation places.
Nimes find themselves with the same points as Lorient (+300000), who are currently third favorites for the drop, but we can see Lorient escaping the perils they currently find themselves in. While they are inconsistent, they and perhaps Stade Reims (+100000) – who sit immediately above them – have a dogged resistance that they will need over the coming winter months.
The table may change, but as things stand, the three teams in those relegation places would be the three teams we'd take for the drop, possibly even in a treble bet via Bovada if you like the current Ligue 1 betting odds.
The Ligue 1 betting odds will change again and again throughout the Ligue 1 season and we'll be back in a fortnight's time to update you on the best Ligue 1 betting odds worth taking. From Paris to Monaco, Nice to Marseille, we'll provide the latest odds via Bovada which can make you a profit on your investments come May and the conclusion of the Ligue 1 season, if not before.