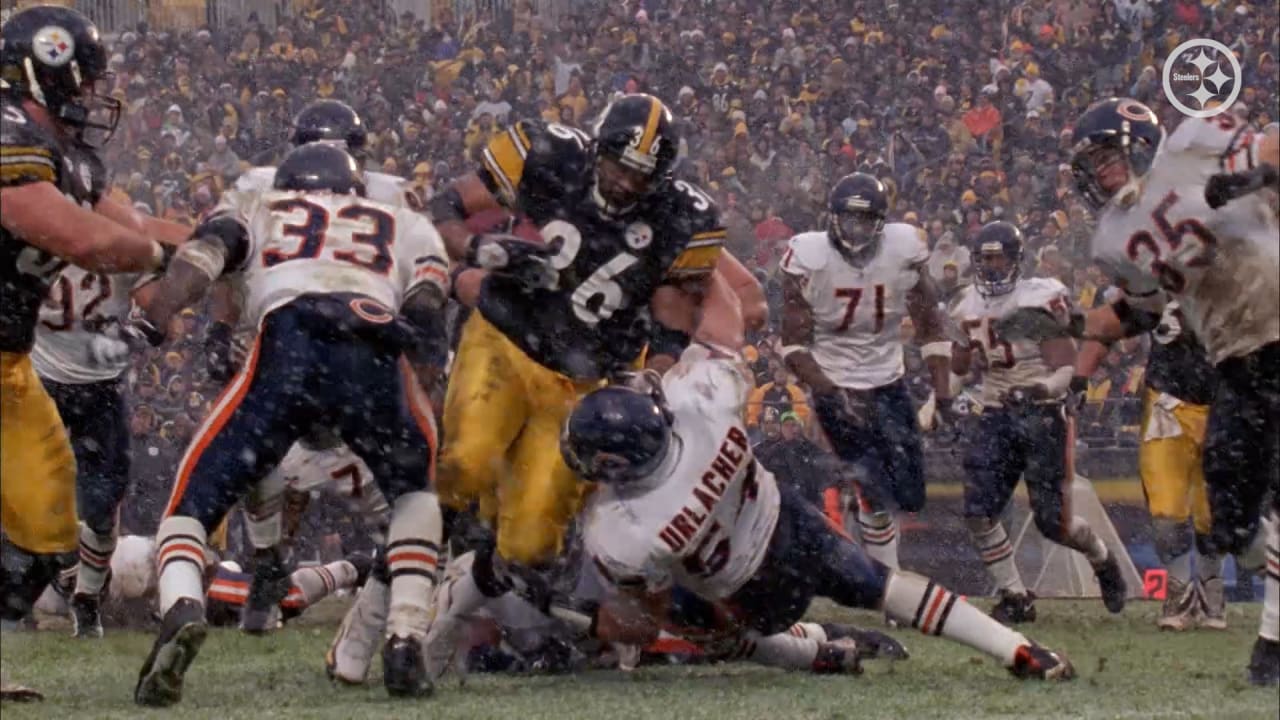 2008 AFC Championship Game
January 18, 2009
Steelers 23, Baltimore Ravens 14
Heinz Field
This was the third time the Steelers and Ravens met, the Steelers taking the first two games in the regular season, and many wondered could they possibly win a third game.
"I remember people asking how we could beat a team three times in a row," remembered Farrior. "People didn't believe we could beat the Ravens for a third time. I didn't want to hear all of that noise, so we came to play.
"Being a defensive player, these are the types of games you like to be in. You know it's going to be physical, hard-hitting and they are going to bring everything they have."
That is exactly the way the game was.
The Steelers beat the Ravens, 23-14, behind a stellar defensive effort that limited the Ravens to 198 total net yards. The Steelers defense had three interceptions and three sacks, including two from linebacker LaMarr Woodley.
Quarterback Ben Roethlisberger threw for 255 yards and one touchdown, a 65-yarder to receiver Santonio Holmes, to give the Steelers a 13-0 lead.
The Ravens fought back, cutting the lead to 16-14 after two touchdown runs by Willis McGahee. But it would be Troy Polamalu who would seal the deal when he intercepted Joe Flacco and returned it 40-yards for a touchdown and 23-14 win.
When the Steelers needed him the most, Polamalu came through big. With a trip to Super Bowl XLIII on the line, Polamalu had five tackles, four of them solo stops and two passes defensed. Earlier in the same game, Polamalu was also Flacco's biggest foe. The Ravens were going for it on fourth-and-one from the Steelers' 34-yard line. Polamalu fought his way over the pile and stopped any forward progress by Flacco, forcing the Ravens to turn the ball over on downs.
The key play was a fourth quarter interception of Ravens' quarterback Joe Flacco. The Ravens pulled to within two on a Willis McGahee one-yard touchdown. The Steelers offense followed with a three-and-out, and Flacco got the ball back looking to take the lead.
"When you needed a play, when you needed a lifeline, when you needed something spectacular to happen, you picked up the phone and called Troy Polamalu," said Taylor. "Troy always sealed the deal. That was throughout his whole career."
On third-and-13 from the Ravens' 29-yard line, Polamalu intercepted Flacco at the 40-yard line and took it all the way back for a 40-yard touchdown and 23-14 Steelers lead, which would secure the win and a trip to the Super Bowl.
"I will never forget the crowd," said Farrior. "That is the loudest and craziest I ever hear the stadium in my whole 10 years playing there. My favorite game at Heinz Field by far."