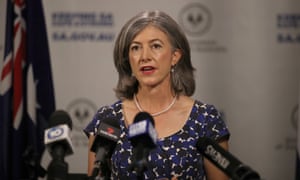 7.29am GMT
07:29
WA Aboriginal heritage laws will not be introduced to parliament before 2021 poll


7.05am GMT
07:05
Insurers have to pay out businesses who shut their doors due to coronavirus lockdown, court finds


6.36am GMT
06:36
Tasmania to South Australians: 'don't come'


4.41am GMT
04:41
Crown asked to delay opening its Sydney casino until February


4.22am GMT
04:22
Mandatory weekly testing for hotel quarantine workers


4.14am GMT
04:14
Prof Paul Kelly is giving the national coronavirus update


3.54am GMT
03:54
Crown Resorts goes into trading halt ahead of Barangaroo announcement
7.29am GMT
07:29
WA Aboriginal heritage laws will not be introduced to parliament before 2021 poll
Updated
at 7.42am GMT
7.05am GMT
07:05
Insurers have to pay out businesses who shut their doors due to coronavirus lockdown, court finds
Insurance companies have lost a crucial test case on whether they have to pay businesses that shut their doors due to the coronavirus pandemic under business interruption policies.
The NSW court of appeal says they do, and has thrown out arguments from insurers that coronavirus is excluded from policies.
It's a decision with potentially huge ramifications – the size of the potential claims affected is unknown, but is estimated to run into the hundreds of millions of dollars.
Some in the industry fear it could lead some insurers to pack up and leave Australia.
The Insurance Council, which bankrolled the cases, is considering an appeal.
Updated
at 7.17am GMT
6.57am GMT
06:57
Updated
at 6.59am GMT
6.36am GMT
06:36
Tasmania to South Australians: 'don't come'
Updated
at 6.49am GMT
6.22am GMT
06:22
The Adelaide Festival Centre is the latest to announce that all coming performances and functions are cancelled, effective until 25 November. Anyone who has bought tickets will be notified via SMS and will receive a refund in full; patrons are being asked to remain patient during this process.
Feast festival's Picnic in the Park — the closing event of the annual LGBTIQ+ queer arts festival — has also been cancelled. The picnic, scheduled for Sunday 29 November, was hoping to attract more than 3,500 people "in a vibrant celebration of inclusivity and diversity", said CEO Helen Sheldon. The Covid resurgence was "devastating news".
Earlier today, the State Theatre Company of South Australia announced it has cancelled all coming performances of Ripcord until 28 November. The show was set to open tonight. Executive director Julian Hobba said:
We feel for the artists involved in Ripcord who were gearing up to open a funny, heartfelt production tonight, and for our audience, for whom the show would have been a great treat at the end of a difficult year.

We remain hopeful to resume performances in the week commencing 30 November, but will have more information as we respond to further government updates over coming days.

All ticket holders for cancelled performances of Ripcord will be contacted as soon as possible.
Adelaide festival, meanwhile, was due to announce its program for 2021 on Thursday; this announcement has been postponed indefinitely.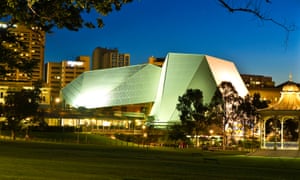 Updated
at 6.38am GMT
6.18am GMT
06:18
Updated
at 6.22am GMT
6.15am GMT
06:15
Updated
at 6.20am GMT
5.52am GMT
05:52
Updated
at 6.05am GMT
5.46am GMT
05:46
Updated
at 6.11am GMT
5.31am GMT
05:31
Updated
at 6.18am GMT
5.17am GMT
05:17
Updated
at 5.23am GMT
5.14am GMT
05:14
Updated
at 5.36am GMT
4.55am GMT
04:55
Updated
at 5.00am GMT
4.41am GMT
04:41
Crown asked to delay opening its Sydney casino until February
Crown has been asked by the NSW government to delay opening its new casino in Sydney until after an inquiry hands down its findings in February.