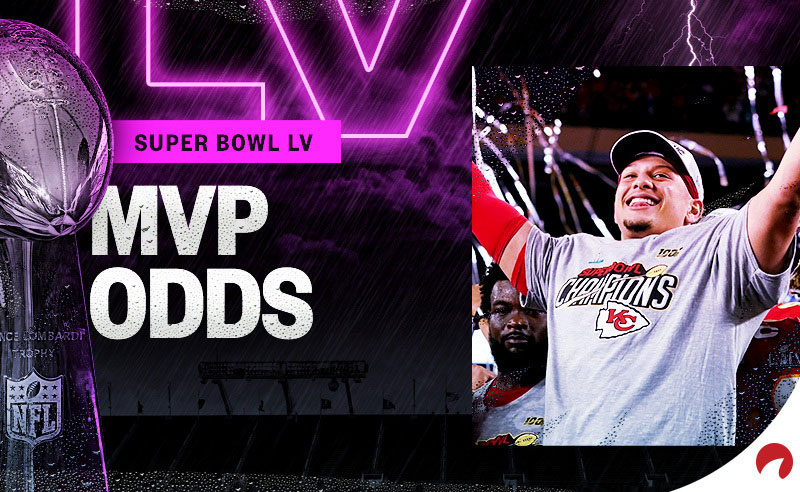 Being named the MVP of the NFL regular season is an extremely impressive honor, but if you ask any player in the league, they'd likely tell you that becoming Super Bowl MVP is a whole other level of prestige.
With the Tampa Bay Buccaneers set to take on the Kansas City Chiefs at Raymond James Stadium on February 7, odds are out on which man will be named Super Bowl MVP. Patrick Mahomes is the odds-on -120 favorite at Bovada, with Tom Brady (+200), Travis Kelce (+1000), Tyreek Hill (+1000) and Leonard Fournette (+2500) the next likeliest options at the book.
Our Super Bowl hub has everything you'll need to handicap the big game. Looking for the sportsbook that's right for you to get some money down on Super Bowl 55? Head over to our Where to Bet on the Super Bowl page.
Super Bowl 55
MVP odds
Odds to Win Super Bowl MVP

| Player | Odds |
| --- | --- |
| Patrick Mahomes | -120 |
| Tom Brady | +200 |
| Travis Kelce | +1000 |
| Tyreek Hill | +1000 |
| Leonard Fournette | +2500 |
| Mike Evans | +2800 |
| Chris Godwin | +3000 |
| Tyrann Mathieu | +3000 |
| Devin White | +3000 |
| Clyde Edwards-Helaire | +3500 |
| Shaquil Barrett | +4500 |
| Mecole Hardman | +5000 |
| Antonio Brown | +5500 |
| Ronald Jones | +5500 |
| Darrel Williams | +6600 |
| Sammy Watkins | +6600 |
| Chris Jones | +6600 |
| Frank Clark | +6600 |
| Cameron Brate | +6600 |
| Willie Gay | +6600 |
| Scotty Miller | +6600 |
| Rob Gronkowski | +6600 |
Odds as of January 29 at Bovada
Mahomes, who a year ago was +115 to become MVP of Super Bowl 54 prior to the game, came through for bettors despite a mediocre performance by his lofty standards.
Mahomes finished the game completing 26 of 42 passes for 286 yards and two touchdowns along with two interceptions. But he came up huge when it counted the most, in the fourth quarter of Kansas City's 31-20 victory over the San Francisco 49ers.
See Odds Shark's Best NFL Sites
The Texas Tech product entered the Chiefs' conference championship clash against the Buffalo Bills with some question marks surrounding his health, but he didn't show any ill effects of the injury he sustained against the Cleveland Browns the previous week that sent him into concussion protocol.
Mahomes did battle through turf toe against the Bills, however, as his left shoe was equipped with a special carbon fiber orthotic. Mahomes' mobility looked a tad limited vs the Bills, an issue that could once again arise in the Super Bowl.
Is Brady In Line For Another Super Bowl MVP Award?
Brady is back in the Super Bowl for the 10th time, but it's his first trip to the big game as a member of the team representing the NFC. Brady is the only player in NFL history to have won four Super Bowl MVP awards. Joe Montana has won three, and three other quarterbacks – Bart Starr, Terry Bradshaw and Eli Manning – have won the award twice.
Brady's Buccaneers held off a late charge by the Green Bay Packers in the NFC championship game, but the 43-year-old threw three interceptions in the second half of Tampa Bay's 31-26 victory. He finished the game 20 of 36 for 280 passing yards, three TDs and three INTs.
That's far from the type of stat line we're used to seeing at this point in the postseason from Brady, but the future Hall of Famer has made a habit of showing up in the Super Bowl. At +200, he's presenting excellent plus-money value given his wealth of experience in the championship game.
Super Bowl MVP Has Belonged to QBs
In Super Bowl 53, Julian Edelman became the seventh wideout to win the Super Bowl MVP Award. Quarterbacks have won the trophy 30 times, compared to seven times for running backs, four times for linebackers, and two times each for defensive ends and safeties.
A cornerback, a defensive tackle and a kick returner have each won the award once. Since Super Bowl 34 in 2000, quarterbacks have been the MVP 12 times.
Past Super Bowl MVP Winners
Game
Winner
Position
Odds
I
Bart Starr
Quarterback
II
Bart Starr
Quarterback
III
Joe Namath
Quarterback
IV
Len Dawson
Quarterback
V
Chuck Howley
Linebacker
VI
Roger Staubach
Quarterback
VII
Jake Scott
Safety
VIII
Larry Csonka
Fullback
IX
Franco Harris
Running back
X
Lynn Swann
Wide receiver
XI
Fred Biletnikoff
Wide receiver
XII
Harvey Martin & Randy White
Defensive end/Defensive tackle
XIII
Terry Bradshaw
Quarterback
XIV
Terry Bradshaw
Quarterback
XV
Jim Plunkett
Quarterback
XVI
Joe Montana
Quarterback
XVII
John Riggins
Running back
XVIII
Marcus Allen
Running back
XIX
Joe Montana
Quarterback
XX
Richard Dent
Defensive end
XXI
Phil Simms
Quarterback
XXII
Doug Williams
Quarterback
XXIII
Jerry Rice
Wide receiver
XXIV
Joe Montana
Quarterback
XXV
Ottis Anderson
Running back
XXVI
Mark Rypien
Quarterback
XXVII
Troy Aikman
Quarterback
XXVIII
Emmitt Smith
Running back
XXIX
Steve Young
Quarterback
XXX
Larry Brown
Cornerback
XXXI
Desmond Howard
Kick returner
XXXII
Terrell Davis
Running back
XXXIII
John Elway
Quarterback
XXXIV
Kurt Warner
Quarterback
XXXV
Ray Lewis
Linebacker
XXXVI
Tom Brady
Quarterback
XXXVII
Dexter Jackson
Safety
XXXVIII
Tom Brady
Quarterback
XXXIX
Deion Branch
Wide receiver
XL
Hines Ward
Wide receiver
XLI
Peyton Manning
Quarterback
XLII
Eli Manning
Quarterback
XLIII
Santonio Holmes
Wide receiver
XLIV
Drew Brees
Quarterback
+180
XLV
Aaron Rodgers
Quarterback
+175
XLVI
Eli Manning
Quarterback
+210
XLVII
Joe Flacco
Quarterback
+250
XLVIII
Malcolm Smith
Linebacker
+2000
XLIX
Tom Brady
Quarterback
+160
L
Von Miller
Linebacker
+2200
LI
Tom Brady
Quarterback
+150
LII
Nick Foles
Quarterback
+325
LIII
Julian Edelman
Wide Receiver
+2000
LIV
Patrick Mahomes
Quarterback
+115