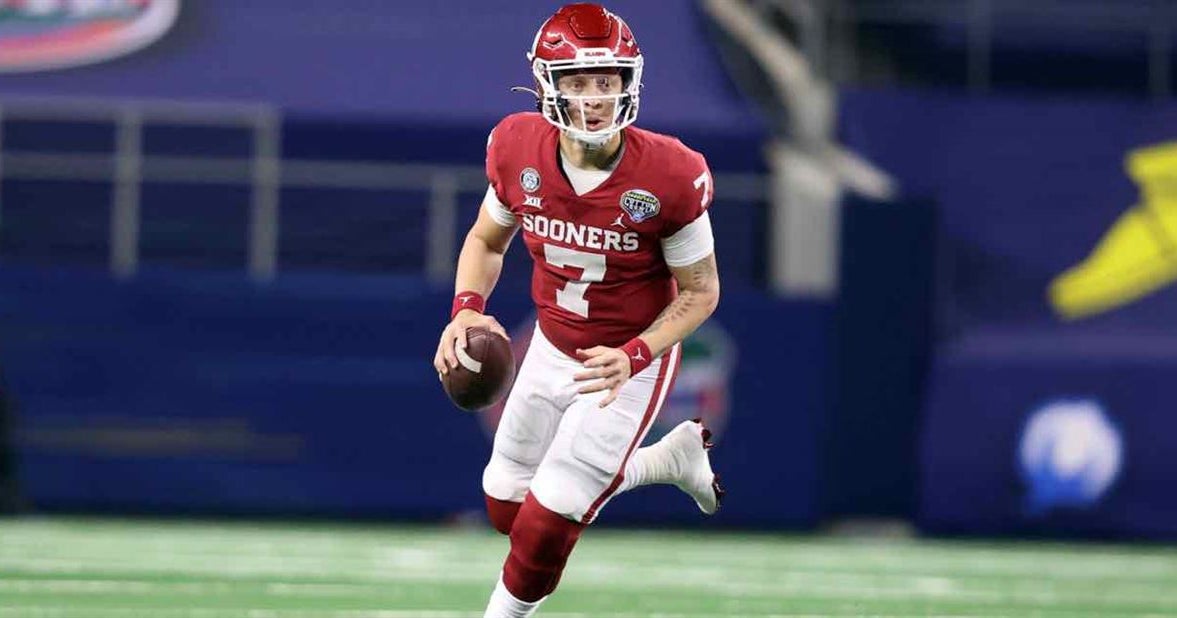 To end the bizarre 2020-2021 college football season, something rare was seen as Alabama wide receiver DeVonta Smith won the Heisman Trophy. While this certainly was a memorable moment, many who believe it's a quarterback-driven award expect things to get back on track next year. One candidate already separating himself is Oklahoma signal caller, Spencer Rattler.
"Well, Spencer Rattler's got the best odds," CBS Sports college football writer Barrett Sallee said. "If, honestly, you're betting Oklahoma quarterbacks, that's a pretty good bet."
In some of the latest projections, Rattler was named the favorite at +400 out of Vegas. It's relatively unsurprising, given what Lincoln Riley has been able to accomplish with his players at the quarterback position.
"Pretty good value," Sallee said. "Even if he is the favorite at +400. Right now, I would throw all my money at Spencer Rattler at +400. Well, not all of it."
There is one challenger that Sallee, and several others for that matter, are keeping in mind. That's Georgia quarterback, JT Daniels. After slowly returning to the field in 2020, he'll have a true chance to establish himself in 2021.
"I'd save a little bit for JT Daniels at +1000," Sallee said. "We saw how good he was down the stretch. They're going to tailor the offense to him now that he's healthy throughout the course of the offseason. He's got weapons all around him including George Pickens who has proven for the last two years that he is a number-one receiver."
These two are just a few of the others receiving odds. Another name to watch is Alabama quarterback Bryce Young who has been seen at +600 in terms of odds. Finally, rounding out the top-five on William Hill is Clemson's DJ Uiagalelei at +1000.
"So, I would bet Spencer Rattler, save a little bit for JT Daniels," Sallee said. "Like we talked about earlier, I think Georgia is going to be a really good team, a College Football Playoff-caliber team."
Both Daniels and Rattler will have a chance to contend for the Heisman Trophy and College Football Playoff in the upcoming season. Oklahoma and Georgia have been popular picks in several early top-25 projections. This team success is a key aspect of challenging for the greatest individual award in the sport.
"When you're a quarterback on a playoff-caliber team who's probably going to put up video game numbers then you have a pretty good shot at winning the Heisman Trophy," Sallee said. "Knowing full well that a wide receiver just won it, I think that's the exception not the rule, not the start of a trend."
Sign up for OUInsider and 247Sports VIP access NOW with these great deals! Get 30% off your annual membership, OR get your first month for just $1! At these discounted rates, you get unlimited access to Oklahoma Sooners team and recruiting info, PLUS the ability to read across the 247Sports Network. Capitalize on these limited-time offers by CLICKING HERE!